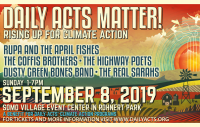 Enter promotional code: dailyactors

and get $10 off your ticket!!

♦ DAILY ACTS MATTER! RISING UP FOR CLIMATE ACTION ♦





A musical and educational event to elevate the awareness that we can create real change in our communities by taking positive action.





Join us - Sunday September 8th, 1 - 7pm at SOMO Event Center in Rohnert Park, for Daily Acts Matter! Rising Up For Climate Action - a community event.





Ticket Prices: $30 GA, $20 kids 12-18 (under 12 free), $35 Day of Event. VIP Tickets $100.




____________________________________________________________





Given the absolute urgency of the climate crisis, there has never been a time when the power of our daily actions and the power of community has mattered more.





Music by:




Rupa and the April Fishes, The Coffis Brothers, The Highway Poets, Dusty Green Bones Band & The Real Sarahs.





Presentations by:




Brock Dolman of Occidental Arts & Ecology Center, Trathen Heckman of Daily Acts, Supervisor Lynda Hopkins, Sunrise Movement, Youth Climate Leaders, a Trashion Fashion Show by CREDO High School students and more!





Plus: green technology demos, inspirational talks, info on local climate action programs, a kid's craft area, food court, craft beer and wine bar, eco minded vendors, a silent auction and more!





Funding from this event will support Daily Acts' climate education and action programs.





Looking at the most critical decade humanity has ever faced, it is vital to remember that anything is possible when we unleash the power of community!





♦ BANDS & PRESENTERS ♦





The Coffis Brothers




The Coffis Brothers are a rootsy rock n' roll band born and raised in the Santa Cruz Mountains who now reside in Sonoma County. Influenced by those early surroundings, songwriters Jamie and Kellen Coffis have uniquely blended folk, country and rock with the intensity of personal lyrics into a gritty and often tender harmony of sound to produce a show that delivers one part Avett Brothers and one part early Neil Young.





Dusty Green Bones Band





This band of misfits from Sonoma County embody a playful approach to music which is all about having fun. They light up the dance floor with an electrifying blend of psychedelic jam-grass, bouncy Americana and uplifting rock. By taking musical styles from a wide variety of genres and mixing them with the high energy of hard-driving bluegrass, they have created a purely organic sound. Their music aims to expand the authentic complexity of traditional bluegrass by layering ancient tones with improvisation and rock n' roll. These ambitious musicians live to ramble across the country playing hand-crafted shows while creating an undeniably magical experience for their fans. Their music is progressive with an indisputable raw aesthetic as the band dares to push the musical envelope, tenaciously defining their own individual style.





The Highway Poets





Formed in the hills of Petaluma, The Highway Poets are an eclectic blend of rock, pop, folk, country and R&B with fresh lyrics and soul. With the depth of soul music and the good time drivin' ability to rock out, this dynamic group lets each set become its own experience. Between the highs and lows, the whispers and the cries there are stories of the pain and the glory that come from the human condition. On a quest for anything that is real and pure, these four boys and their music continue to grow through their hard work and travels, and they don't plan on slowing down anytime soon. In the past 5 years they have recorded 3 full length albums, toured the mid-west and west-coast extensively, and have shared the stage with many nationally acclaimed acts.





Rupa and the April Fishes





Rupa and the April Fishes create a sound that pulsates with the pluralism of Bay Area culture, celebrating life and the art of resistance through a wide musical palette that pulls from over a decade of playing street parties, festivals and symphonic concerts through 29 countries with songs in 5 languages. Under the direction of composer, frontwoman, activist and physician Rupa, the band creates a live experience which is a manifestation of a world beyond nations, where the heart of humanity beats louder than anything that divides us. This is Liberation Music.





The Real Sarahs





As rising stars in the west coast Americana scene, The Real Sarahs have begun to distinguish themselves as master harmony singers and evocative songwriters. With an organic sound that enchants and uplifts the spirit, they share their special gift of vocal synergy. This trio creates magic with voices in harmony, acoustic instruments, and the energetic connection between artists and audience. Embracing many genres of music, you are likely to hear threads of folk, jazz, blues, and country running through their songs. Singing from the stories of their own life journeys and experiences, their original music is honest, evocative and heartfelt.





Brock Dolman





Brock Dolman is a co-founder of the Occidental Arts and Ecology Center. He co-directs the WATER Institute, Permaculture Design Program and Wildlands Program. He has taught Permaculture and consulted on regenerative project design and implementation internationally in Costa Rica, Ecuador, U.S. Virgin Islands, Spain, Brazil, China, Canada, Zimbabwe, Tanzania, Democratic Republic of Congo, Cuba and widely in the U.S. He has been the keynote presenter at numerous conferences and was featured in the award-winning films The 11th Hour by Leonardo DiCaprio, The Call of Life by Species Alliance, and Permaculture: A Quiet Revolution by Vanessa Shultz. In October of 2012, he gave a City 2.0 TEDx talk.





Credo High





Credo High School is a public charter school that is guided by the core principles of Public Waldorf Education to deliver a college-prep program that advances critical thinking, creativity, responsibility and initiative in public school students. Founded in 2011 to continue the education offered by our region's six exemplary Alliance for Public Waldorf Education K-8 member schools, Credo is raising the bar for public high schools in Sonoma County—and establishing a repli*cable new model for public high schools nationwide. They address their students as leaders of the future and help them to develop the capacities, compassion and values to address tomorrow's challenges. Credo is a public high school that gives more, that asks for more, and that prepares its students to achieve more.



Lynda Hopkins

Sonoma County 5th District Supervisor, Lynda Hopkins and her family own and operate Foggy River Farm, a "family-run, community-oriented farm" whose mission is to "grow food that is good for our souls, our bodies, and the land."

When not busy sowing seeds or milking goats, Lynda has served the community as Executive Director of Sonoma County Farm Trails, where she worked with dozens of family farmers to help keep small-scale farming viable. Lynda also worked as journalist with Sonoma West Publishers, and was Board Secretary of Farm to Pantry, where she helped distribute over 100 tons of gleaned farm-fresh produce to those in need. Lynda was a member of the Leadership Circle of Community Alliance with Family Farmers (North Coast chapter), where she advocated for sensible streamlined land use policy.

Sunrise Movement

Sunrise is a movement to stop climate change and create millions of good jobs in the process.
"We're building an army of young people to make climate change an urgent priority across America, end the corrupting influence of fossil fuel executives on our politics, and elect leaders who stand up for the health and wellbeing of all people. We are ordinary young people who are scared about what the climate crisis means for the people and places we love. We are gathering in classrooms, living rooms, and worship halls across the country. Everyone has a role to play.
Public opinion is already with us - if we unite by the millions we can turn this into political power and reclaim our democracy. We are not looking to the right or left. We look forward. Together, we will change this country and this world, sure as the sun rises each morning".

Trathen Heckman

Trathen Heckman is the founder and Director of Daily Acts Organization. He serves on the Board of Transition U.S. and the California Water Efficiency Partnership and is an Advisory Board member of the Norcal Community Resilience Network. Trathen helps people and groups reclaim the power of their actions to regenerate self, nature and community. Trathen lives in the Petaluma River Watershed where he grows food, medicine and wonder while working to compost apathy and lack.

Additional presenters to be announced!