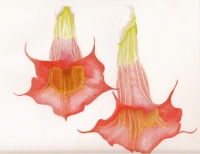 This unique class is a visual exploration of personal affinity towards plants. Artist Paetra Tauchert will bring an astrological lens to experienced instruction on how to see and reproduce images in graphite and color, in order to facilitate a day of connecting with a botanical familiar.





In astrological lore, each person has a planet that rules their natal chart, and there are correspondences between plants and planets. Paetra will choose a plant for you to draw based on your own astrological chart to create a personal plant talisman.



We will draw from a combination of live plants and photos, using colored pencils and pan pastels. Some materials provided.



This class will also include a lesson on basic astro-botany.





Date/time: Saturday, September 14 - 10am-3pm



Location: Botanical Dimensions Ethnobotany Library - Occidental, California

Details and registration: https://astro-botanical-illustration.bpt.me/




Instructor Bio:


Paetra Tauchert is a lifelong artist of many mediums. She has spent the past five years focusing her art practice on the study of botanical illustration, working in colored pencil, pastel, watercolor and gouache. She is a Master Gardener and keeps a big garden in west Sonoma County, from which she draws much of her inspiration. She is a consulting astrologer, hosts a podcast about the astrology of musical genius, and writes a lavishly illustrated, bi-monthly newsletter based around the new and full moons, 'heirloom magic' and nature. Website: paetratauchertastrology.com



Visit

http://botanicaldimensions.org/ for more information about other classes and projects. Botanical Dimensions is a small, local 501(c)3 non-profit and appreciates our community's support.

Please contact us at

[email protected]

with any questions.