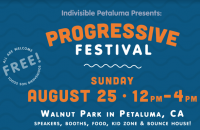 Indivisible Petaluma Presents the 22nd Annual Progressive Festival! Petaluma Progressives have passed down the torch to the next generation of community builders!

Petaluma Progressive Festival is creating a platform, centering people and voices from traditionally marginalized communities, to lift these voices to power. Our values are anti-racist, anti-sexist, anti-homophobic, anti-transphobic and anti-xenophobic. We want visibility, increased awareness, community growth and inclusivity for all community members.

By centering these voices and creating opportunities for people and organizations to connect, we hope community members will become more informed about what is happening within our communities, what work is already being done to create progressive change, and how they can join in those efforts.

Listen. Connect. Change Your Community!

**Program is still in process**

MC's: Coming Soon
Community Leaders: Coming Soon
Lucia Garay & Celeste Chavez from Sunrise Sonoma County Hub

Music & Art:
-The Butterfly Project: www.socoimm.org
-Dillisk: A musical friendship founded on a love of Irish traditional music

Sponsors- Big Thank YOU to the following!
Comite VIDA
North Bay Jobs With Justice
Peace & Justice Center
Lunchette

If you would like to volunteer at our event, sign up:
https://www.signupgenius.com/go/60b0...f49-volunteer1

If you would like to table at our event, please sign up:
https://www.signupgenius.com/go/60b0...abf49-tabling1

*This is a green event provided by Green Mary.
This means people who bring their own sustainable, reusable plates, etc. get a $1 off: http://greenmary.com
Family Friendly event with a kid zone!