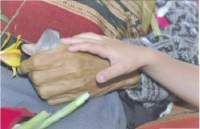 Honoring Life's Final Passage
Level 1: A Conscious and Sacred Approach to Dying
Level 2: Home Funerals and Green Burial

Two back-to-back 2-day workshops

Discover the benefits of home funerals and green burial.

Explore conscious dying and what it is to prepare for your own passing.

Learn how to help family or friends exercise their legal right to create uniquely designed end-of-life celebrations, funeral arrangements and ceremonies, properly handle paperwork, transportation and other logistics.

DATES
Friday, Nov 1 - Monday, Nov 4, 2019
9AM to 5PM each day
plus Friday and Sunday evening sessions (full schedule here.)



COST:

Early Bird: Register and pay in full by Monday, July 8, 2019 to save $50!
Levels 1 and 2 together:
$775 Early Bird extended through Oct 19, 2019
$825 thereafter.
Many meals included.

Level 1 or 2 only: $425. Level 1 is a pre-requisite for Level 2.



Instructor: Jerrigrace Lyons


Jerrigrace Lyons, founder of Final Passages, is a Minister, death midwife, educator, home funeral guide and Reiki Master. She founded the educational non-profit organization, Final Passages in 1995 to inform people about little known funeral options, natural death care rights and practicalities, green burial and the benefits of bringing funerals back into the home and family care.

Jerrigrace is featured in the acclaimed PBS documentary, A Family Undertaking (available on Netflix as DVD).

Guest Presenter: Sally Shannon

Sally completed her Masters Degree with a thesis on "Dying, Loss and Grief" in 1983. She has been a "Diva of Death" since then, studying with Elisabeth Kubler-Ross, Raymond Moody, Stephen Levine, Jerrigrace Lyons, and Rabbi Stuart Kelman.

Her work with clients is about discovering their own truth and making powerful choices.