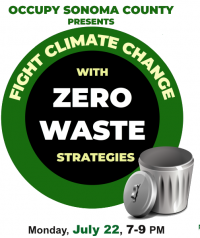 Please share this announcement with your mailing lists and friends. Download this flyer to post on bulletin boards. Thank you!​


Occupy Sonoma County Presents
Fight Climate Change with Zero Waste Strategies

Presented by Portia Sinnott, Zero Waste Action - Sonoma County & Zero Waste USA

Monday, July 22, 7-9 PM
Peace & Justice Center
467 Sebastopol Ave., Santa Rosa

Free with donations welcome

LEARN: The why's and how's of Zero Waste - at home, work, school and on-the-go. Better understand today's recycling, and composting challenges and how you can make a difference.

FIND OUT: Why the Bay Area is considered a hub of the Zero Waste movement, how Sonoma County fits in that picture and what Santa Rosa's new Zero Waste Master Plan may mean to you and your household.

DISCOVER: What local advocates are doing to curb climate change, reduce waste, increase composting, increase recycling, create jobs and help move us toward a green economy.

DISCUSS: How to integrate Zero Waste practices into your day-to-day life - reuse, repair and share, prevent food waste, make DIY personal products, and instigate collaborative efforts at home, work and school.

Find our Facebook event page at https://www.facebook.com/events/418332648895999/.

Join Millions Of People Worldwide In Plastic Free July!
We urge everyone to join the global challenge at http://PlasticFreeJuly.org where participants are counted and receive information on how to reduce plastic consumption.

Download our Plastic Challenge Action Picker and find local campaign information at: http://OccupySonomaCounty.org/PlasticFreeJuly.

Find our local Plastic Free July Campaign on Facebook at https://www.facebook.com/events/2195179703937948/.

Subscribe to our weekly newsletter that includes information about plastic problems and solutions in every issue.

For more info contact: http://OccupySonomaCounty.org or call 707-877-6650 (website contact preferred).