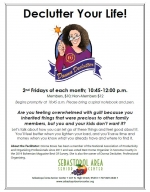 Are you feeling overwhelmed with guilt because you inherited things that were precious to other family members, but you and your kids donít want it? Letís talk about how you can let go of these things and feel good about it. Youíll feel better when you lighten your load, and youíll save time and money when you know what you already have and where to find it.

Sebastopol Area Senior Center
https://www.sebastopolseniorcenter.org/
829-2440
green building behind the library
167 N High St
2nd Fridays of each month; 10:45-12:00 p.m.
Members, $10; Non-Members $12

Begins promptly at 10:45 a.m. Please bring a spiral notebook and pen. About the Facilitator: Donna Roses has been a member of the National Association of Productivity and Organizing Professionals since 2011 and was voted Best Home Organizer in Sonoma County in the 2019 Bohemian Magazine Best Of Survey. She is also the owner of Donna Declutter, Professional Organizing.