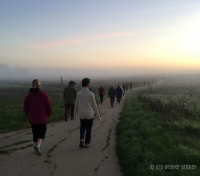 Please join us for the special Celebration of the Summer Solstice Sunrise Walk.

Friday, June 21st @ 5:40 am at the Laguna parking lot off highway 12

Liza Weaver Brickey will guide you into the beauty of the Laguna as we honor, together this great turning of the seasons.This is always such a celebratory time for our walks.

We have Benjamin Mertz joining us this year. His music and chanting is rooted in the black spiritual tradition and social action. He is the founder of Joyful Noise Gospel Choir and music minister of Skyline Community Church UCC in Oakland. Composer, performer, song leader, Benjamin leads song with groups for vigils, protest, sacred services and workshops.