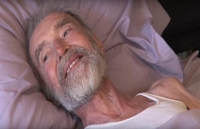 Final Passages continues its monthly series in June with a collection of our best short films.

Wear your favorite shorts and join us for the best of our collection of short films.

Get ready to be inspired, educated and to laugh about end-of-life choices and the work of Final Passages and Home Funerals. We will have questions at the end of each film and more great discussion at the end.

Featured Short:
Multi-Award-Winning documentary, Dying Wish
A retired physician in his 80s chooses to forgo food & drink in order not to delay his dying process.
Watch the trailer below.

Also showing:



an excerpt from Being Here Now, A Journey Through Death and Dying*

Ask a Mortician
College Humor (Adam Ruins Everything) on funerals
Coffin Club
CBS News Report about Final Passages
a local home funeral and green burial - Nancy Goddard
Eleven Year Old Boy and Reincarnation


Trailer for Dying Wish
https://youtu.be/VNGXbi84U5o


*Being Here Now: A Journey through Death and Dying is a personal and educational look at a difficult and awkward topic in contemporary society. The film presents a first-hand, personal account of two individuals facing terminal cancer, along with their thoughts and emotions during the last few months of their lives. Elsie Duhon and Ed Wilson discuss their fears, pain management, and life-ever-after. This film includes interviews with the people most involved in their day-to-day struggles. Elsieís daughter openly discusses the exhaustion, frustration, anger, and myriad of conflicting emotions that surface as her role of primary caregiver evolves. Edís companion explores the strength, hope, and love Ed has shared with her over the years and how these qualities are what enable her to see a life for herself beyond his death.