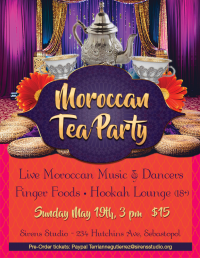 Come listen and dance to the live music of Al Azifoon at our Moroccan Tea Party, they will be joined by Susu Pampanin!

Included with your ticket is a pot of tea, a plate of delicious food, ambient belly dancers, card reading, AND a hookah experience out in the Hookah tent!

All included. $15.00 per ticket. Paypal

[email protected]

.