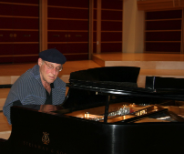 Evening of Inner Listening Poetry & Piano:



This evening of listening, people share poems out loud with the audience, and Jerry Green accompanies them on the piano,

with his lovely way of blending the beauty of poetry and music.

It is an invitation to pause and digest. The combination of poetry and music improvisation is a treat for the audience, further enhanced by the beautiful setting of Russia House, an unusual restaurant in Jenner, that has a character all of its own. Bound to be a delightful evening. Bring your presence along to enjoy. (You are especially invited to bring poems if you have some to share.)




"Jerry's original improvisations on popular and classical themes and remarkable ability to listen seem to help people rediscover their desire to listen." Seth Montfort, Concert Pianist

Ann Marie wrote the books below (click on images for more info) , and the following describes her published works:

"I read this entire collection in one sitting. Each thought and word flowed directly to the next. I've never met Anne Marie Cheney, but I know some who know her. I would say that from the emotional impact of her poetry, that they are very lucky." E.W.