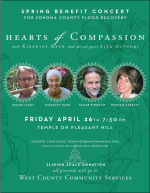 TEMPLE ON PLEASANT HILL
Sebastopol
Reserve your space

[email protected]

and get address
Space is limited and carpooling is appreciated

Sliding scale donation
All proceeds will go to
West County Community Services

Kiranjot Kaur lived and studied music in India and fell in love with Indian classical music. She currently teaches a weekly Indian Raga singing class in Sebastopol (all welcome!) and leads a monthly gathering for women to sing mantras together at Yoga Studio Ganesha. More information and music at https://www.facebook.com/mantramamas/

Sahar will play the evocative East Indian tablas and lead us in a meditative chant.
Duane Light plays and records the beautiful bamboo Bansuri flute from India with a variety of sacred musicians.
Hannah Caratti has led devotional singing, "kirtan" gatherings for more than 20 years.
You can hear Hannah and Friends CDs at https://counselingyogameditation.com/music/
Come sing with us!