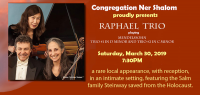 World-Renowned Raphael Trio Performs Mendelssohn Trios, Featuring the Salm Family Piano Saved from the Holocaust; Benefit for Ner Shalom

The world-renowned Raphael Trio will present a concert of Mendelssohn trios at Congregation Ner Shalom, 85 La Plaza, Cotati, at 7:30 p.m. on Saturday, March 30, 2019. The concert is a benefit for the congregation.

The Trio will play two Mendelssohn trios, both well known and loved, brilliant and virtuosic: the Trio #1 in D Minor and #2 in C Minor.



After the war, re-united with her beloved baby grand, Erna and her informative performances became an important element of Chicago's musical life with the establishment of regular monthly "House Concerts", a tradition from her life in Europe that she successfully brought to the American public. She and her four children - the "Salm Ensemble" - were often featured in radio, on television and in the Chicago newspapers.

One of the Salm children, Susan, became a concert cellist, touring internationally with her mother, performing as a soloist and chamber musician in the US and overseas. During her studies at the Juilliard School in NY she and her colleagues formed the Raphael Trio.

One of the foremost ensembles in the US and abroad, the Raphael Trio has been lauded nationally and internationally: in NY, Washington, Boston, San Francisco, London, Frankfurt, Vienna, Geneva: "One group stands out light years ahead of the rest: it is the Raphael Trio. The Raphael is extraordinary and it took about two seconds to find it out"(Boston) "This is the high-wire act of chamber music... precision, vitality, and uncommon union of spirit. And all without a net."(San Antonio) "The Raphael Trio gives new meaning to music." (Vienna)

The members of the Trio developed an immediate and personal connection to the community in Sonoma County. Naoko Tanaka, violinist of the Raphael Trio recalls, "I still remember the feeling of enthusiasm with the audience in the room and their smiles on their faces."

Pianist Daniel Epstein said, "We look forward to revisiting our wonderful new friends in Cotati… what great memories of a warm welcoming audience!"

Cellist Susan Salm commented, "The intensity and warmth of that evening will remain with all of us for many years to come. I knew that performing with my mother's Steinway baby grand would be emotional and reminiscent of my childhood and early professional years, and for that to be brought back to me in Ner Shalom's welcoming and loving embrace was absolutely wonderful. My colleagues and I were moved in a way that was quite special for each of us, individually and as an ensemble. We tangibly felt everyone's presence: their hearts were with us, and ours with them, and we all knew it was joyous, and serious, and happy, all at once. Returning to this audience and in this space is something we look forward to, knowing it will once again be exhilarating!"

Irwin Keller, spiritual leader of Congregation Ner Shalom, said, "Ner Shalom is proud to be the home of Erna Salm's piano, and also the Sonoma County home of the Raphael Trio. It is also of note that the Trio is playing Mendelssohn. Felix Mendelssohn's grandfather, Moses Mendelssohn, was a very important figure in European Jewish history – his work ultimately birthed the progressive denominations of Judaism. The connections between the music, the players, the instruments and history will be tied very tight that night."

A Raphael Trio performance can be seen here: https://www.youtube.com/watch?v=U_IBeeQ3ENk, and samples of their music can be heard here: https://www.gingarts.com/artists/raphael-trio/.

Tickets are $25; VIP tickets are $40, and sponsorships are $150. All may be purchased online at https://shalomevents.ticketleap.com/raphael-trio-2019/ or by calling Ner Shalom at (707) 664-8622.