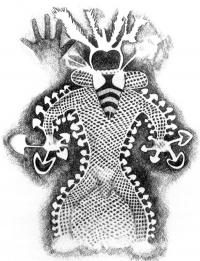 Join this informative and speculative workshop with ethnobotanist Kathleen Harrison. We will consider the roles in indigenous history, contemporary culture & consciousness of these BIG BOTANICAL BEINGS: Magic Mushrooms, Peyote & Ayahuasca. We look at them as beings who are playing a role in our collective story. How are ancient psychedelic traditions evolving in the 20th and 21st centuries? With fascinating information, creative speculation, and group discussion, we always unearth something new way of thinking about this deep, provocative topic.

Visit Botanical Dimensions' unique Ethnobotanical Library and take time to peruse the books and become a member. Our library and classroom are set in the charming village of Occidental, in beautiful West Sonoma County, it's just a 90 min. drive north of San Francisco.

Meet other folks who are interested in ethnobotany, psychedelic species & big, thoughtful questions. It's always a good group that gathers to learn and reflect on this topic.

Saturday, May 18 from 10am to 4pm at Botanical Dimensions Ethnobotany Library ~ Occidental, California


Details and registration: https://botanical-beings-2019.brownpapertickets.com/



Please contact us at

[email protected]

with any questions.





Website:

www.botanicaldimensions.org

Phone: 707-874-1531



Presenter: Kathleen Harrison is an ethnobotanist and educator, who has been doing fieldwork among indigenous cultures, and amidst West Coast subcultures, since the 1970s. She specializes in studies of plants and fungi that are used in ritual, healing, art, and story. Kat is well-known for her work with traditional psychoactive species and their lore. She directs the Ethnobotany Library in Occidental, CA, as the hub of the non-profit organization, Botanical Dimensions, which she co-founded in 1985. She teaches classes there, and internationally, on a wide range of topics that pattern traditional and contemporary plant-human relations.