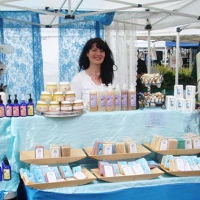 When

| | |
| --- | --- |
| Saturday, February 23rd; | 10:00 am - 12:30 pm |

Where
Laguna Environmental Center, 900 Sanford Road, Santa Rosa
Cost
$40 (Pre-registration required)
Event Website Add to Google Calendar
Learn to make soap right in your own kitchen! If you're new to soap making, it can seem a bit overwhelming even with all of the online resources available; sometimes they make it even more confusing! Join veteran soap maker Kelly Smith, owner and creator of Rubber Ducky Soap, to learn about the chemistry and various aspects of making bar soap using the cold-process method. Kelly will share safety information, the pros and cons of various ingredients, and how to formulate a soap recipe based on individual needs. We will make two batches of soap with scents and additives agreed upon in the class. Participants will bring home two small containers of soap. Even though it will be hard to wait the necessary two weeks for the soap to cure and be ready for use, it will be well worth the wait! After this class you will be ready to make your own batch of soap. Take note... it can be addictive!

Kelly Smith was drawn to soap making after friends gave her a bar of soap they had made when she was in her mid 20's. Being plagued by dry skin her entire life, once she tried the handmade bar she was driven to learn how to make soap herself. After a few failed attempts Kelly finally figured out to make soap like the one she was given. By then she was hooked and decided to start a home-based business selling soap at local farmers' markets and craft fairs. Kelly now operates eleven farmers markets in Sonoma and Marin Counties and has turned her passion for making soap into a successful hobby business.