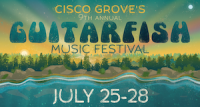 This is my favorite Music Festival!



It's got a great line-up of first class bands (Rock, Jam, funk, soul, electronic, and more) every year, the small concert bowl is in the forest, on carpet! (no dust!) and its just a 4-minute walk to a great swimming hole on the YUBA RIVER!

Earlybird Tickets are currently just $170 for a 4-day pass! (after your 15% WaccoBB discount - use code WaccoBB). Should you purchase a ticket and then not be able to go, you'll have no problem selling your (transferable) ticket for what you paid for it closer to the festival, when ticket prices are higher.



Ticket prices are going to bump up Friday, July 12th at midnight.
So grab your discounted tickets now!



You can reserve a campsite with power and water at the campsite, plus a car pass for $250 - which can be shared by as many people can fit (most sites can easily handle 8 people). Real hot showers are nearby. And its family friendly vibe is extra sweet!

The site is just off I-80 near Donner Pass (Truckee) so it's easy to get to.

You can also volunteer for Work Exchange, either before or during the festival and attend for FREE!

This year's lineup is particularly strong with some of my favorite bands include the California Honeydrops, Afrolicous, Earth Arrow, Diggin' Dirt, Midtown Social and Joy & Madness.

All in all, this is the sweetest, easiest, and Best festival!

~ Barry


Established in 2011, Guitarfish is an annual event known for its funk-tastic, groove-fueled musical lineup and beautiful setting high in the Sierra.

The stage features world class live music from funk and soul to rock and electronica and everything in between. The setting, the stunning Cisco Grove campground, comes complete with a natural amphitheater for a music bowl, ample shaded camping and its own swimming hole.

Guitarfish offers everything else you would expect from a large-scale festival – great music, yoga, kids activities, vendors, workshops and art - in an intimate, family friendly setting.

Since 2016, Guitarfish has been partnering with the Joshua Tree Music Festival to co-produce the event. www.guitarfishfestival.com


2019 LINE-UP... The California Honeydrops
Kinky
Afrolicious * Yak Attack
Smoked Out Soul * Earth Arrow * Diggin Dirt
Mestizo Beat * Sambada *Midtown Social
The Ries Brothers * Joy & Madness * Peter Joseph Burtt & the King Tide
Pamela Parker & the Fantastic Machine and Jimmy Leslie's Guitarfish Family Band.

See more about these artists here



Early bird tickets are now on sale, get in quick to reserve your favorite RV Site for 2019 too!


*Get 15% off your 4 Day Festival Pass with code: WaccoBB
To use discount code you must order your tickets on the Eventbrite event page,
not the guitarfish website.




For more event info go to guitarfishfestival.com
To order tickets using the WaccoBB discount code go to the Eventbrite event page.

*applies to single adult 4 day ticket, cannot be combined with other offers, cannot be used on Friends & Family Package tickets.