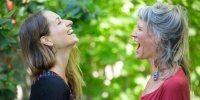 Sun, January 27 at 6000 Sebastopol Ave, Hwy 12.

Walking Water benefit with MaMuse: 7-9pm
Walking Water contributes to the ever growing movement for the restoration of our relations with the waters, lands and peoples through pilgrimage. Wholeheartedly fed by the folk and gospel traditions, MaMuse creates uplifting music to inspire the world into thriving. Information and tickets.



At the Sebastopol Grange, 6000 Sebastopol Ave, Hwy 12.