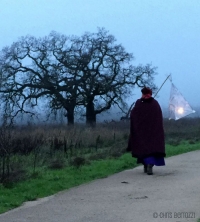 Starry Nights, Imagining and the New Year



The 2019 Epiphany Sunrise Walk: Sunday, January 6

Epiphany is the awareness of noticing something is different in you or your perception of yourself and how you see the world. Epiphany completes the cycle of the last year as you reflect on what has happened and what is new and being revealed to you. The new light entering the earth is a wonderful time to allow new beginnings. This early morning walk is about setting some time aside to contemplate this new awareness, perception and approach to life and to the the new year. This can be a contemplative walk, a walk to get back in shape or a walk to bring in new ideas for the year.

At this time, the earth has begun its cycle of return from the most southern distance from the sunís most southerly journey. The Epiphany Walk can be used to begin your new yearís resolutions, to let go of the past year or to allow an intention to come to you. This is a time of new beginnings. We hope you find inspiration in both your breath and your new beginnings.

The weather can be variable at sunrise. Please wear clothing that will keep you warm, dry and comfortable. We suggest wearing a good pair of walking shoes and bringing water if you like to hydrate on walks. This walk is for you! Whatever this walk unfolds for you, we encourage it. Your path is respected.

Starry Nights, Imagining and the New Year



We have been blessed with the starry nights and time to vision within. As you begin to move towards the new year, you can see each star that you have meditated upon, to represent some place in your heart that will hold you up like a sky-hook.


What have your inward visions been? What dreams will hold you up in the New Year?

Please join us for the Epiphany Sunrise Walks and we will walk together to find our sky-hooks for the new year and our relationship to the Cosmos.

Join us for the upcoming Epiphany Sunrise Walk at the Laguna de Santa Rosa January 6, 2019. We will begin our early morning walk just before dawn. We will meet at 7:15 AM at the trailhead just before the Chevron gas station, at the Highway 12 entrance. We will leave promptly. This two-mile walk will take us to the pond and back.