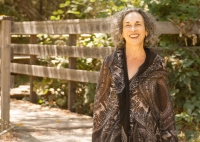 Join Fran Carbonaro and guest musicians for an evening of poetry and music from her recently released CD: I'm Still Alive. This evening's presentation will focus on the "divine intervention" which came through dreams, visions and a rite of passage while facing the profound effects of complex trauma from childhood familial violence.



"Fran Carbonaro has offered us an intimate and fierce portrait of someone who has faced the difficult territory of trauma and loss. She has taken the leaden weight of suffering and through her devotion, has transmuted, what was once saturated with shame and sorrow, into a healing tincture for those of us who have been similarly touched by abuse. Her poems and songs carry an alchemical power--elemental and true--capable of touching our most vulnerable places with compassion. These are sacred words calling us back to our wholeness.
(Francis Weller, author of: The Wild Edge of Sorrow: Rituals of Renewal and the Sacred Work of Grief)

Fran Carbonaro is a local voice teacher, who has taught privately in Sonoma County for 35 years. Fran works with both budding and seasoned singers, of all ages, in discovering, honing and saving their voices. Her focus is uncovering the true voice by bridging somatic awareness with resonant vitality and articulation. She also assists trans women in finding their authentic voice. Over the years, Fran has appeared on stage in the county as a singer, actor and poet.