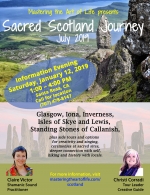 In July 2019, we will be hosting sacred travel to the Isles of Scotland!

This JANUARY 12 gathering
is an evening of information, Scottish music and snacks to learn more about the trip.

The evening is in a private residence, so private message me for the location.

See my live video here

We had so much fun earlier this year on our Celtic Journey to Ireland, that we are going to Scotland next year!

On our journey in July, a small group (maximum 20) will take in the mystery and magnificence of the outer beauty of Scotland,and let it invoke the wisdom of the sacred world within.



Glasgow, Iona, Isle of Skye, Inverness,
Isle of Lewis - including the Standing Stones of Callanish
plus side tours and options for creativity and singing.


ESTIMATED Tour Dates: July 7 - 18, 2019



Ceremonies at sacred sites with Claire Victor, Shamanic Sound Practitioner and Mystical Guide
Creative play
Deeper connection within yourself
Visit parts of Scotland most people donít see.
Opportunities for creativity and singing!
Hiking and history with locals


Read more about the trip.