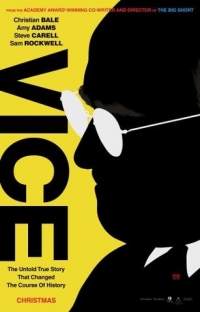 6 Golden Globe Nominations!
Best Picture, Comedy; Best Actor, Comedy, Christian Bale; Best Supporting Actress, Amy Adams; Best Supporting Actor, Sam Rockwell; Best Director, Adam McKay; Best Screenplay

The epic story of how a bureaucratic Washington insider quietly became the most powerful man in the world as Vice-President to George W. Bush, reshaping the country and the globe in ways that we still feel today.


---


From Barry:
I saw this and I highly recommend it! Very informative and entertaining!

Christian Bale's Cheney is amazing!