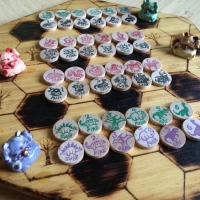 Join us at Many Rivers for this very special Game Night!
Featuring Nice Games' latest strategy game, Zodiax.



Zodiax is an easy to learn game for 2-3 players with very deep strategy packed into a brisk play time. Games are printed on organic fair trade pouches. We will have multiple tables set up for the games to take place!



Nice Games have deep enough strategy to satisfy the serious gamer but are simple enough to be enjoyed by casual gamers as well. Their goal is to squeeze as much strategy and fun as they can into portable games that are easy to learn and don't require a huge time commitment to enjoy. Their games can be learned in just a few minutes and enjoyed on the first play.