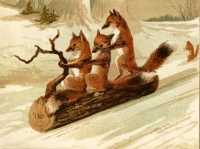 SUNDAY, DEC. 16 THE OLD WORLD CAROLERS IN CONCERT:

FUN AND GAMES



The Old World Carolers present a special benefit concert at Sebastopol United Methodist Church, 500 N. Main St., Sebastopol (across from Safeway), Sunday, Dec. 16 at 3:00 p.m.



This year's program highlights upbeat carols with a youthful spirit, including "the Hansel and Gretel song"

Abends

(Germany),

Fum, fum, fum

(Spain/Catalonia),

All Through the Night

(Wales), play-party songs from Sweden,

Past Three a Clock (

England), and many others. The Carolers always add a few standards for singing along.



ALL PROCEEDS TO CAMP FIRE RELIEF!

Doors open 2:30. Suggested donation is $10, kids free. Info: 707/823-7971. More info and links may be seen at traditionalfun.org/owc.html .