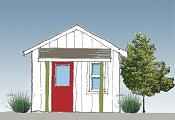 Veteran's Village is a heart-warming example of partnership and collaboration in a time when we need it more than ever. A project of Community Housing Sonoma County, this new tiny home site will provide housing for one of our most vulnerable populations, previously homeless veterans. This site will give back to those who have given so much, providing a safe and healthy space for our veterans to age, and a sense of pride in finally having a home to call their own.

To help build community on-site and offer opportunity for both engagement among residents and space for quiet reflection, a beautiful healing garden was designed by our friends at Permaculture Artisans. With rain catchment through swales and rain gardens designed by Sherwood Design Engineers, native habitat plants, fruit trees and small gathering areas, we are creating a sustainable model that can be replicated throughout our county.

Daily Acts is so grateful to be involved in this partnership and has signed on to facilitate a two-day installation of this amazing new healing garden. Since there is no funding for our participation, our community has stepped up and answered the call to support our involvement in this project. Now we are going to put this investment to work by facilitating volunteers on the installation of plants, irrigation and wood chips to help get this garden growing!

We hope to see you there for this inspiring weekend, but if you cannot make it, we hope you will consider contributing to the fund-a-need campaign for Veteran's Village by donating here. This will enable us to install signage, benches and other elements to increase engagement with the garden.


When: RESCHEDULED for December 15th and 16th from 10am - 2pm
Where: 665 Russell Avenue, Santa Rosa, CA. 95403 by
Cost: Free - Thanks to generations donations from our community and the EACH Foundation!