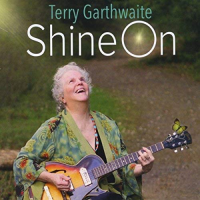 "I can feel the beat like the wings of a dove.
Like a heart on fire, full of the light of love.
Shine on, shine on, shine on."



Premium Seating (1-8 rows): $33.00
General Admission ADV: $27.00
Door Admission: $28.00

Online sales end Friday, September 14th at 3pm.

Join us on Sunday, Sept 16 at 4pm as we celebrate Terry Garthwaite turning 80 and her new CD, Shine On, which Terry says "is like a gathering of old friends—songs I've written, performed and taught over the last 4 decades and carried into the present."

Terry Garthwaite is an internationally known singer, songwriter, composer, producer, and teacher. Her recording career dates back to the late 1960s when she and Toni Brown formed the rock group Joy of Cooking. She recorded several albums with the band, and then a dozen others by herself or in collaboration with other jazz and blues musicians.

David Garthwaite and Fritz Kasten, this is the first time in 40 years that they have played together on stage. Also, Oona Garthwaite, an American singer-songwriter, niece of Terry Garthwaite and daughter of David Garthwaite. Completing this amazing line up of musicians are Chris Webster, The Playdates, Nina Gerber and Jeff Martin.