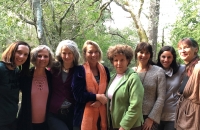 Body Tales Class Performance

Come witness the North Bay Body Tales women's group do self-revelatory, fully improvised, movement theater shared from our hearts, lives, and embodied values. Warning: you may leave wanting to move your body and tell your stories!

Tickets Ahead

or at the door

This performance/sharing will run for 90 minutes.

Wheelchair accessible, not tailored for children.