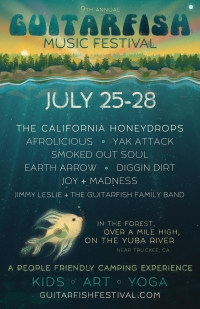 This is my favorite Music Festival!



It's got a great line-up of first class bands (Rock, Jam, funk, soul, electronic, and more) every year, the small concert bowl is in the forest, on carpet! (no dust!) and its just a 4-minute walk to a great swimming hole on the YUBA RIVER!

Earlybird Tickets are currently just $145 for a 4-day pass! (after your 15% WaccoBB discount - use code WaccoBB). Should you purchase a ticket and then not be able to go, you'll have no problem selling your (transferable) ticket for what you paid for it closer to the festival, when ticket prices are higher.

Ticket prices are bumping up Thursday morning, February 7th. So grab your tickets now. At this price you can be assured your can sell your tickets if need be for what you paid for them.

You can reserve a campsite with power and water at the campsite, plus a car pass for $250 - which can be shared by as many people can fit (most sites can easily handle 8 people). Real hot showers are nearby. And its family friendly vibe is extra sweet!

The site is just off I-80 near Donner Pass (Truckee) so it's easy to get to.

All in all, this is the sweetest, easiest, and Best festival!

~ Barry


Known for a funk-tastic, groove-fueled musical lineup, the Guitarfish experience includes an action-packed kidsville and family camp, swimming holes a short stroll from the stages, access to world class mountain & road biking routes, music playshops, a world market, yoga classes from sunrise to sunset, hiking + more. Camping amongst family and friends, while witnessing inspired live music in a natural setting truly enriches lives and fuels the heart! 2019 line-up coming soon.




2019 INITIAL LINE-UP...

The California Honeydrops
Afrolicious * Yak Attack
Smoked Out Soul * Earth Arrow * Diggin Dirt
Joy + Madness * Jimmy Leslie + The Guitarfish Family Band
+ more TBA...



Early bird tickets are now on sale, get in quick to reserve your favorite RV Site for 2019 too!

*Get 15% off your 4 Day Festival Pass with code: WaccoBB

For more event info go to guitarfishfestival.com

*applies to single adult 4 day ticket, cannot be combined with other offers, cannot be used on Friends & Family Package tickets.