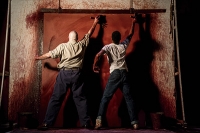 Mark Rothko

is in his New York studio in 1958/59, having been commissioned to paint a group of murals for the expensive and exclusive

Four Seasons restaurant

. He gives orders to his assistant, Ken, as he mixes the paints, makes the frames, and paints the canvases. Ken, however, brashly questions Rothko's theories of art and his acceding to work on such a commercial project. For his part, Rothko dislikes the rise of

pop art

.